Groovy
Year Built:
2011 (Refit:)
Builder:
Robertson and Caine
Layout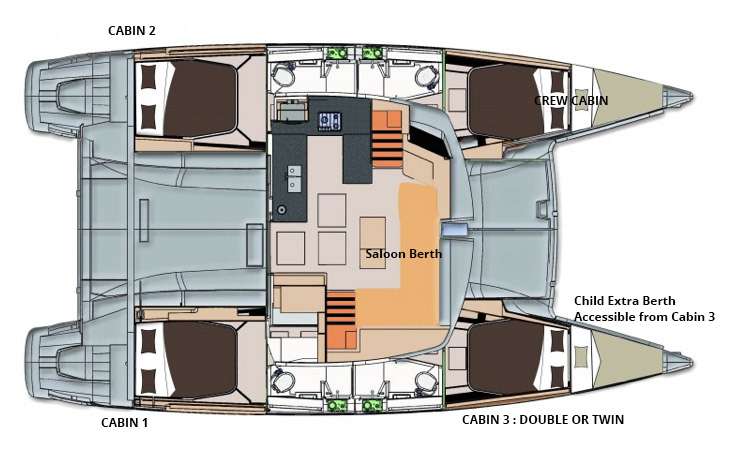 Locations
Summer Area
Caribbean Leewards, Caribbean Windwards
Winter Area
Caribbean Leewards, Caribbean Windwards
Groovy Overview
GROOVY is a Robertson and Caine Leopard 44 ft. catamaran based in the Grenadines.
Inside, Groovy is equipped with air conditioning and fans throughout. Accommodation comprises of two double cabins as well as a twin cabin, which is ideal for two or three children (or two adults) sharing. The crew use the fourth en suite berth.
The boat has a water maker, commercial ice maker, cockpit drinks cooler, good refrigeration for ice cream and a large bbq - an ideal boat for enjoying meals and time on board. The crew : Australian Captain Steve and Polish Chef Monika run Groovy professionally yet informally with a relaxed and flexible approach.
Pricing
Price Details
Relocation Fees
Please enquire for charters starting north of Martinique
One way : St Vincent or Bequia to Grenada : $500US
One way : St Vincent or Bequia to Carriacou : $250US
One Way : St Lucia to the Grenadines or Carriacou : $500US
Grenada - Grenada : $750US
One way : Martinique to the Grenadines : $750US
Xmas Week : 10% surcharge
Low Season Rates : 10% Discount (see pricing above)
How to get to Bequia? SVGAIR - daily flights from St Lucia and Barbados at 1600/1630 1 hr.
LIAT AIR - daily flights from Barbados and St Lucia to St Vincent.
MUSTIQUE AIR - private planes between all Grenadine Islands.
ONE CARIBBEAN - private planes between all islands
Direct Flights from JFK / TORONTO / MIAMI to St Vincent.
Meet The Crew
Captain Lic
Yachtmaster Offshore
Captain Lang
Australian, English, Polish, Greek , French.
Crew Lic
RYA Coastal Skipper
Crew Profile
Captain Steve
Steve's sailing experience goes back to when he was a wee lad (childhood) as a cadet in Royal Australian Naval Reserve Cadets, competing and even winning junior class sailing regattas. His professional career led him to the waterfront where he could combine his work with his passion. Being a surfer, wakeboarder, scuba diver and general water man leads to becoming involved in the water-sports business in tourism and studying for maritime commercial licenses.
Moving on to a more serious professional life of responsibilities he takes on a position as Brisbane city ferry boat captain. After a few years of this routine lifestyle his adventurous spirit leads him to new opportunities, leaving Australia he ends up in Greece, sailing the Greek islands as a charter yacht skipper. It is in Greece that he discovers kiteboarding and very quickly he becomes one of the first kitesurfers on Kos island.
After Greece, Steve and Monika took the challenge of a Transatlantic on board Groovy. Having sailed through the Grenadines for many seasons prior, they have the opportunity to share their local knowledge of the area to take you to the best secluded beaches, snorkeling and diving locations, and private anchorages.
While Steve has the qualifications and experience to keep his boat to the highest of standards, his style of skippering is informal and he has the flexibility to change itineraries as and when is required. He prefers being on the sea to on land, enjoys meeting new people and of course exploring new locations along the way.
Chef / Hostess: Monika
Monika's dream and a passion for travelling to exotic locations lead to her choice of studies, tourist industries, enabling her to enter into a professional career in tourism to see the world. After graduation, she left Poland to work and live in various countires. Her path begins in Tunisia leading to France and Cape Verde. It's on Sal Island in 2008 that she discovers kiting and later, sailing. She has travelled a lot of the world including Africa and Asia working as a tour leader for 10 years.
She was also previously a nanny and incredibly good at entertaining children. For 6 years before she and Steve started chartering and sailing together, she worked aboard large luxury yachts as a chef and gained experience as a deckhand and hostess.
Monika is a fantastic host and her food and meals are always fresh and well presented with no worries about catering for special diets, gluten-free or any other food restrictions.
Working together as The Dream Team, Steve and Monika draw on their experience of year's of freelance work on different boats to set-up and maintain Groovy so that guests can all have an easy and pleasant trip. Combined with Monika's delectable food and Steve's amazing sense of humour, sailing expertise, any guest is bound to have an amazing vacation.
Ameneties
Toys
Fish Gear Type
Trolling Rods
Comfort Ameneties
Boarding Ladder
Yes on the stern
More Details
yacht Guest Smoke
On the transom only
Engines
2 x yanmar 40Hp & 1 x 5KW generator
Water Capacity
1000 litres
Green Other
Solar Panels, Recycling, Attention to Food Waste, and limited Plastic Use.
Scuba Onboard
Rendezvous only
Available
On Hold
Booked
Unavailable